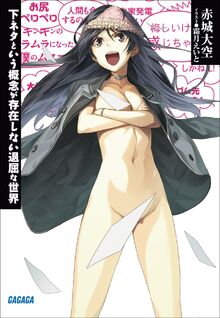 Synopsis
Edit
It's 16 years after the "Law for Public Order and Morals in Healthy Child-Raising" banned coarse language in the country. Tanukichi Okuma enrolls in the country's leading elite public morals school and is soon invited into the Anti-Societal Organization (SOX) by its founder, Ayame Kajō. As a member blackmailed into joining by Ayame, Tanukichi ends up taking part in obscene acts of terrorism against the talented student council president and his crush Anna.
Title Origin
Edit
Shimoneta (下ネタ) is a Japanese word for "dirty joke".
Thots and "love juice"
Light Novel
Edit